SOTI Snap & SOTI XSight are Zebra Validated | SOTI | SOTI ONE Platform

Two additional products from the SOTI ONE Platform – SOTI Snap and SOTI XSight – have joined SOTI MobiControl in being Zebra validated.
And just like SOTI MobiControl, SOTI Snap and SOTI XSight underwent thorough testing prior to receiving validation certificates: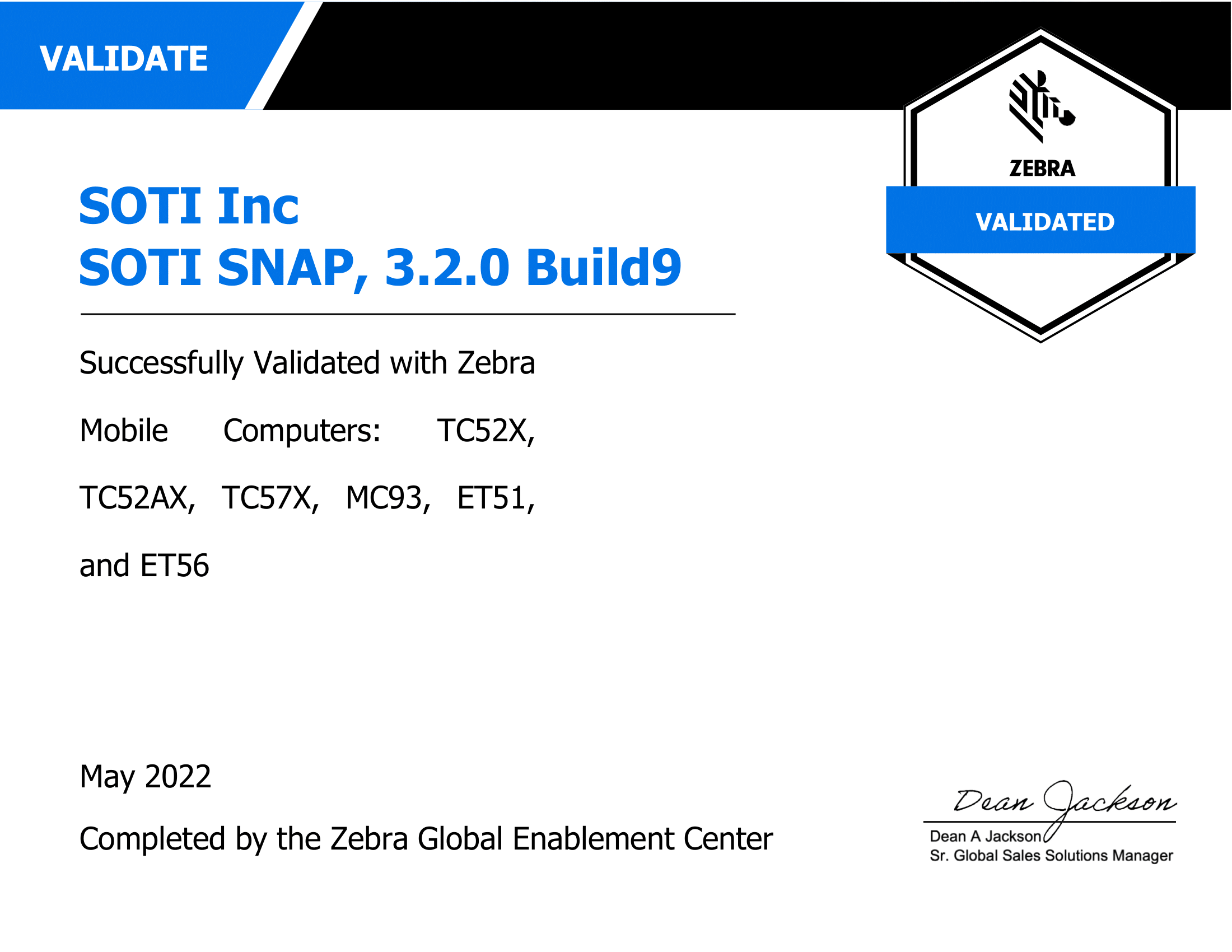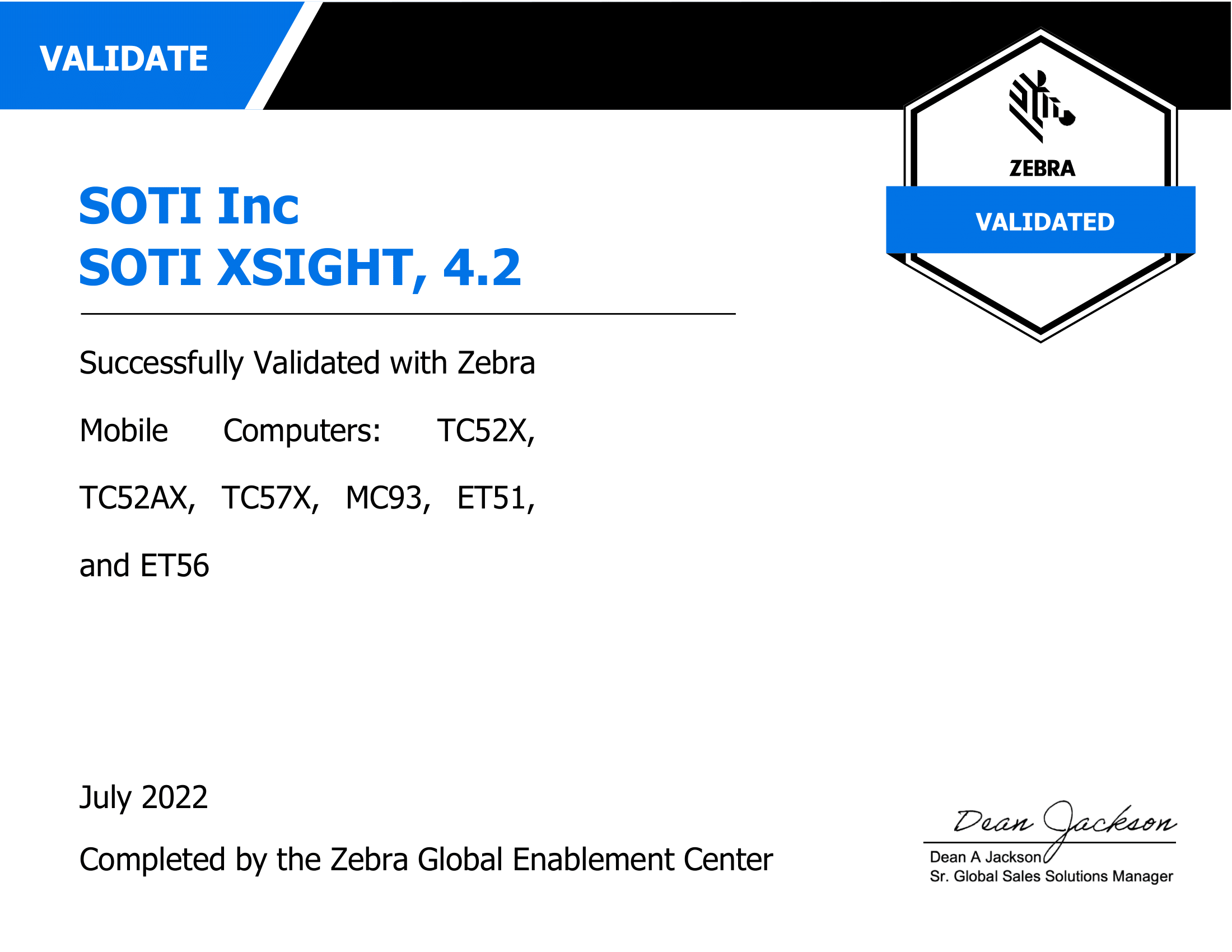 The following Zebra devices have been validated with SOTI Snap and SOTI XSight: 
SOTI Snap and SOTI XSight: Tested and Zebra Validated for Performance, Security and Reliability
SOTI Snap is the rapid app development solution which allows organizations to build the mobile apps they need quickly and cost-effectively. SOTI XSight is the diagnostic intelligence solution designed to minimize device downtime and maximize return on investment (ROI).
Both SOTI Snap and SOTI XSight were tested on a variety of Zebra mobile computers and tablet computers in over 20 technical and use case categories, including:
Wi-Fi reliability: Zebra devices are used anywhere and everywhere. When they move between multiple network access points, SOTI Snap and SOTI XSight must continue to work without interruption. For SOTI Snap, that means apps which require Internet connectivity continue to work even if the device changes networks. For SOTI XSight, it means continuing to collect device data while it's on the move.
Stability: Quicky going from screen to screen should not result in SOTI Snap or SOTI XSight crashing.
Zebra also tested SOTI Snap and SOTI XSight in a "day in the life" scenario to reflect normal activities end users would perform when using them.
For example, with SOTI Snap, can users easily enroll a Zebra device and then easily install SOTI Snap onto it? They launch the app and then use features like radio buttons to select options or use camera capture and barcode scanning to capture data.
For SOTI XSight, "day in the life" testing involved logging in, navigating to various screens such as operational intelligence, the Battery Dashboard and the Cellular Coverage Dashboard. The incident management capabilities of SOTI XSight – such as remote controlling and interacting with Zebra devices remotely – were also tested to ensure help desk agents could quickly access and troubleshoot any issues end users would experience.
We are thrilled that SOTI XSight and SOTI Snap passed every test!
What Being Zebra Validated Means for You
Apps are critical to business success and worker productivity. On average, 68% of employees switch between 10 apps every hour, which means the apps they need have to work. With Zebra validation for SOTI Snap, you can have confidence knowing the apps you build for your Zebra devices will do just that.
Meanwhile, mid-shift battery failures can result in $1 million (USD) in lost profit every year and 85% of workers never report issues to IT, leaving the department blind to problems. But now that SOTI XSight is Zebra validated, you'll always have the analytics and tools you need to keep your Zebra devices, and the people who use them, productive.
Other benefits include:
Seamless integration: Organizations using SOTI Snap and SOTI XSight and Zebra devices can rest assured they will smartly work together. SOTI Snap makes it easy to build apps for your Zebra devices, and SOTI XSight enables the rapid resolution of any issue which results in Zebra device downtime.
The power of a powerful partnership: Because SOTI Snap and SOTI XSight are validated with Zebra, partners can propose a robust SOTI + Zebra solution that meets customer needs. And when partners contact SOTI or Zebra, they will receive world-class customer care and superior technical assistance.
Discover What SOTI and Zebra Can Do For Your Business
See first-hand how SOTI Snap and SOTI XSight – now that they have achieved Zebra Solution Validation – can help your business-critical mobile operations: