Managing the Digital Footprint of the Distributed Workforce | SOTI

We are now firmly in the era of the distributed workforce. When the pandemic struck, 90% of global organizations implemented a remote or hybrid work policy. Overnight, it seemed, 560 million people worldwide found themselves working away from the office. Equally as sudden: IT professionals had to respond to the challenges and changes associated with managing decentralized device fleets, which continue to increase in size and complexity to this day. 
The latest SOTI report, When Work Is Anywhere: Managing Technology's Role in the Distributed Workforce, looks at how IT departments across numerous industries balance the need for rapid innovation and implementation with entrenched manual processes while monitoring and protecting disparate digital footprints. 
You can check out the report highlights below. For the full story, click the link below to instantly get your free copy. 
Organizations are Adapting to the Distributed Workforce…for the Most Part
The distributed workforce is anywhere, and it includes almost anyone: 80% of the global workforce (2.7 billion people) are "deskless workers" in that they work across locations outside of a singular or centralized workplace. 
To meet the needs of this "new normal," organizations and IT professionals focused on three key areas:


DEVICE ADOPTION 

 

Investing in new technology to empower distributed workers to remain connected and productive

 

WORKFLOW ENHANCEMENT AND APPLICATIONS 

 

Seeking innovative ways to manage workflows and onboard employees through bespoke applications 

 

MANAGING MANUAL PROCESSES 

 

Eliminating manual, paper-based processes that slow down productivity and cannot meet consumer demands 

Data from the report: 
Across all sectors, 37% of businesses increased the number of devices they had and 38% increased their mix of devices (smartphones, scanners, rugged devices and SaaS applications). 
Organizations want to either introduce or maintain in-house management of business-critical mobile devices

,

with smartphones (28%), on-premise software (23%) and printers (22%) being the priority.

 
Although it's a distributed workforce in a digital world, 58% of workflows are being managed manually, with 31% being done via pen-and-paper processes.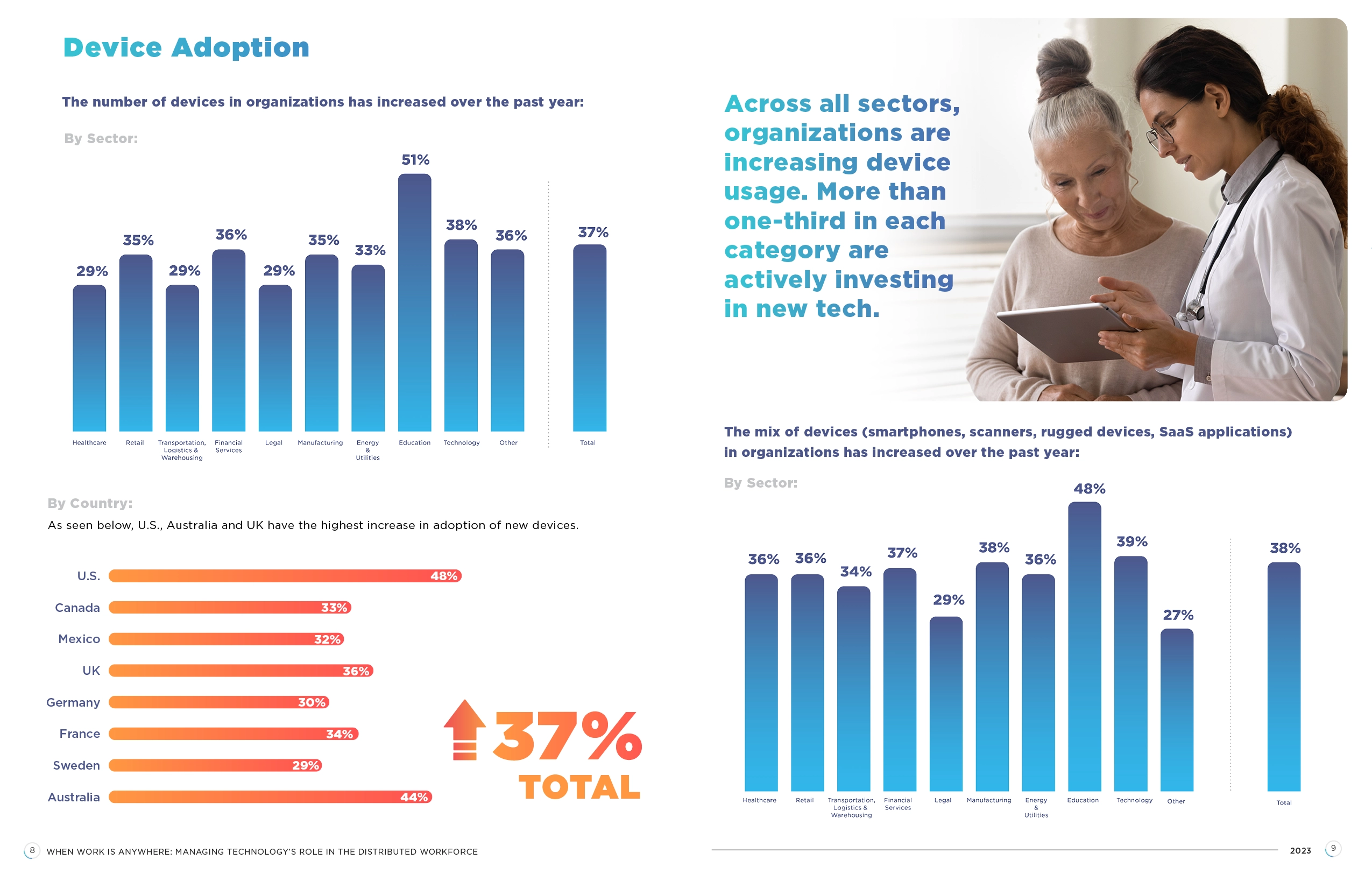 How Do You Manage a Digital Footprint That's Everywhere? 
So, where are all these deskless workers? They are working from home. Or remote locations. Or in coffee shops. Or in libraries. Or in <insert your favorite place to work here>. 
To manage an extensive and expansive digital footprint, IT departments are increasing their budgets. According to When Work Is Anywhere: Managing Technology's Role in the Distributed Workforce: 
52% of organizations have increased

IT budgets over the past 12 months 


45% of companies have increase

d

the number of people working with

in

their IT teams

 
The question then becomes, where is this money being spent? The report identified three key areas: 


SECURITY 

 

Ensuring better access control to protect networks and minimize security breaches

 

INFRASTRUCTURE  

 

Developing a tech infrastructure to meet the needs of a widespread workforce

 

DAILY OPERATIONS 

 

Elevating areas of operations that can be automated to enhance workflows

 

Organizations are bringing in new technology to satisfy the new security, infrastructure and operational requirements associated with a decentralized digital footprint. Seventy-nine percent are managing technology that was not previously managed a year ago. This technology ranges from live video, chat or text support to tracking devices indoors and Cloud migration.
The days of only being able to access business-critical data, tools and apps from a specific, designated location are obsolete. Regardless of where a person is working, they still require the same security protections, productivity tools and processes they would have if they were back in the office.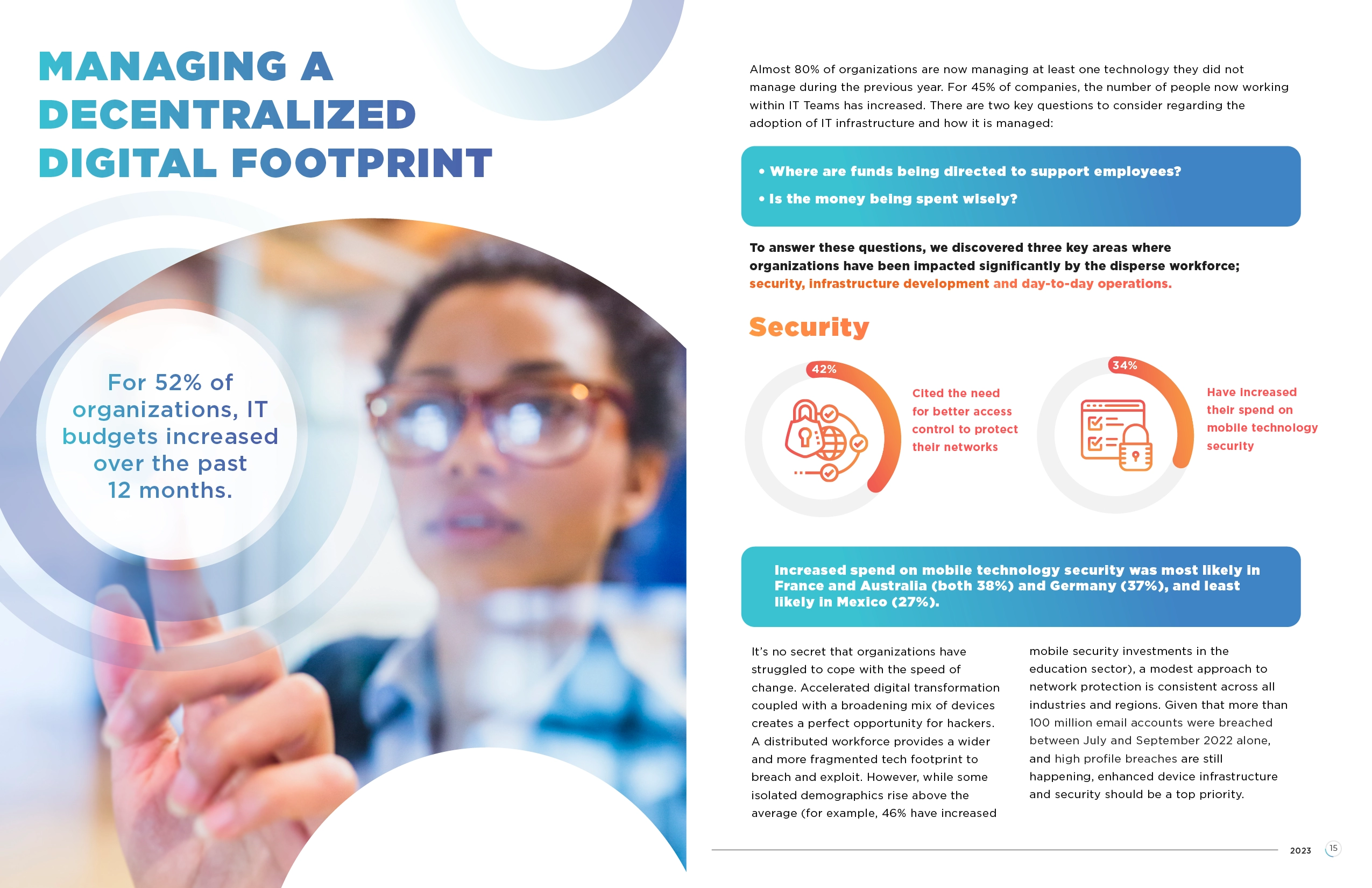 Download Your Copy of When Work is Anywhere: Managing Technology's Role in the Distributed Workforce 
These are snippets of the data and findings inside When Work is Anywhere: Managing Technology's Role in the Distributed Workforce. The report also outlines the following: 
Who is ahead of the curve when it comes to supporting the distributed

workforc

e

The connection between distributed work and distributed business success 
Which industries are at risk of falling behind due to manual management of essential workflows 
The technology organizations are investing in to keep up with worker needs and customer demands