What's New in SOTI Connect 2024.0 | Visualization Dashboards | SNMP

Welcome to our Fall 2023 SOTI Connect Update. In this release, we have improved your ability to more efficiently and effectively visualize the key operational aspects of your printers. SOTI Connect has also added new protocol support so you can manage more printers and additional devices.
From a version perspective, you may have noticed we revised the nomenclature to more accurately reflect when the product enters the market. The naming structure will be consistent across all SOTI products, providing a predictable and regular cadence of releases customers and partners can easily follow. The Fall 2023 SOTI Connect Update will cover all the new features that have been released with SOTI Connect 2024.0.
Visualization Dashboard
The What
In this release, we introduce Visualization Dashboards – a new way to see your mobile and industrial printers quickly and efficiently. Admins can build and customize their own dashboards using a library of widgets, charts and tables. This enables businesses to visualize print operations in ways never before possible.
Focus can be placed on critical printer details such as:
Firmware Version
Security Certificates
Printer Performance
Customize your views to see what matters to you and your printers without having to see lower-priority items, saving time and reducing the potential for missing printer issues. The Visualization Dashboard allows you to see images of your printers so you know exactly which printer you are looking at in a simple, clean and graphical dashboard.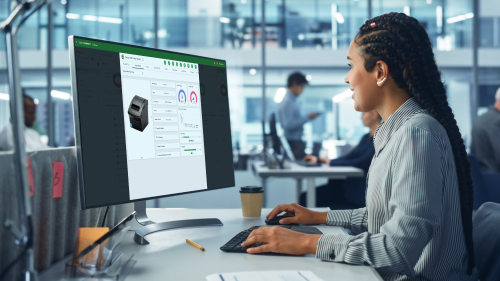 The Why
If you have a medium to large fleet of business-critical printers, you know how important it is to keep them running smoothly and securely.
By using the flexibility to make your own views, admins can see their printers and network using metrics which are uniquely valuable to them. This is where the SOTI Visualization Dashboard shines.
Data from many units can be aggregated to present a holistic view, or the admin can choose to spotlight certain printers or printer groups. Security certificates can be viewed, firmware versions can be monitored and device performance can be gauged.
Keeping an eye on these critical measurements can help you identify potential issues before they cause a printer to go down or become a security risk. SOTI Connect allows users to create incidents in SOTI XSight if, for example, the print head is running too hot and could overheat if no action is taken.
Imagine a scenario where an IT administrator is starting their shift. They are responsible for ensuring all warehouse printers used during the dayshift are still operating normally. By using the dashboards, they can easily glance at the entire network or focus their attention on high-traffic centers and spot issues which could negatively impact the incoming shift workers.
Using the Visualization Dashboard, this information can be seen quickly to avoid shipping and receiving downtime, which negatively impacts business operations. The outcome is the incoming shift workers being fully productive and operations running smoothly.
With the inclusion of Visualization Dashboard, the SOTI Connect 2024.0 release improves efficiencies across the organization. Additionally, SNMP support continues to expand in SOTI Connect. With the 2024.0 release, we are now able to support non-Zebra printers using this protocol.
These highlights are only a part of a larger Fall 2023 Product update – check out these other updates in our release notes:
Automatic Certificate Renewal
Automated Group Mapping
Network Inventory
Camera Support via ONVIF
Contact Us to Learn More.