Five Reasons Single Sign-On Solutions (SSO) Are Essential | SOTI

Single Sign-On (SSO) solutions are widely used in many organizations across numerous industries. In Europe, the Middle East and Africa (EMEA), 87% of companies have implemented SSO. Meanwhile, in 2022, 75% of organizations worldwide extended SSO to internal apps and software-as-a-service (SaaS) apps.
The first SSO solutions became available in the late 1990s, and since then, the market has grown significantly. By the end of this decade, the global SSO market is expected to reach $8.4 billion (USD).
Why has SSO become such an integral part of business operations? Check out this infographic for the five reasons why SSO is essential.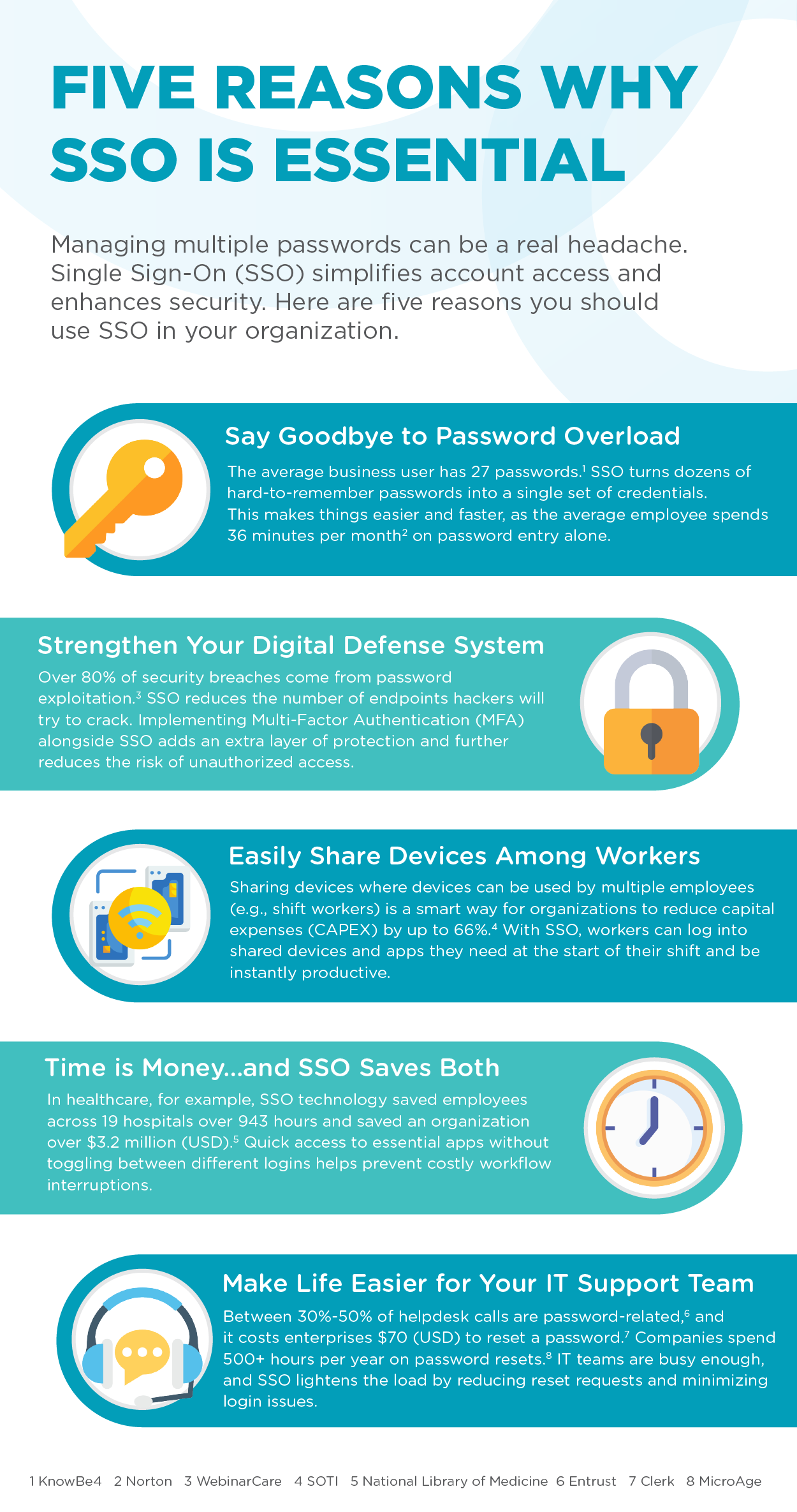 Five Reasons Why SSO is Essential for Both Users and IT
Managing multiple passwords can be a real headache. Single Sign-On (SSO) solutions simplify account access and enhance security. Here are five reasons you should use SSO in your organization.
SOTI Supports SSO
The SOTI ONE Platform integrates with SSO solution providers to streamline efficiency, boost productivity and enhance security for frontline workers:
SSO for Microsoft Shared Device Mode: Workers get the speed and convenience of SSO when accessing Microsoft mobile apps such as Outlook and OneDrive while organizations get the cost-saving benefits of buying fewer devices and sharing them among employees. At every step, critical data is kept safe and secure as the device passes from worker to worker and shift to shift.


SSO via Imprivata Mobile Device Access (MDA): Healthcare workers can quickly and securely log into shared devices via MDA to access apps which are critical to creating a positive experience for patients.


SSO via SOTI Identity: On its own, or in conjunction with identity providers (IdPs) such as Microsoft Entra ID, OneLogin or Okta, SOTI Identity facilitates an efficient and seamless SSO experience for all native and web mobile apps which support SAML (security assertion markup language) or OIDC (OpenID Connect) authentication.
If you want to learn even more, here's how you can: